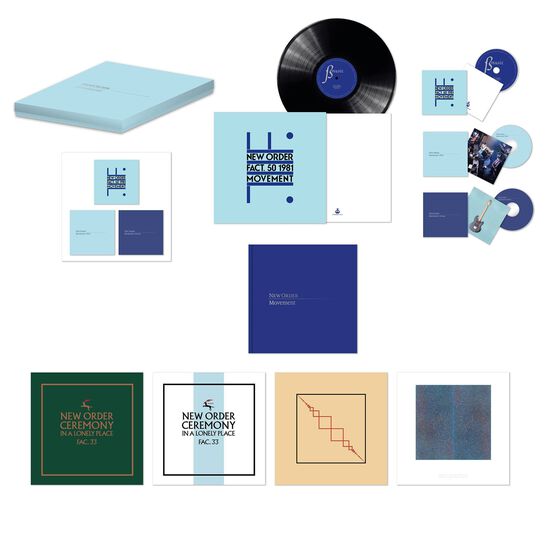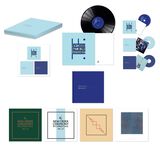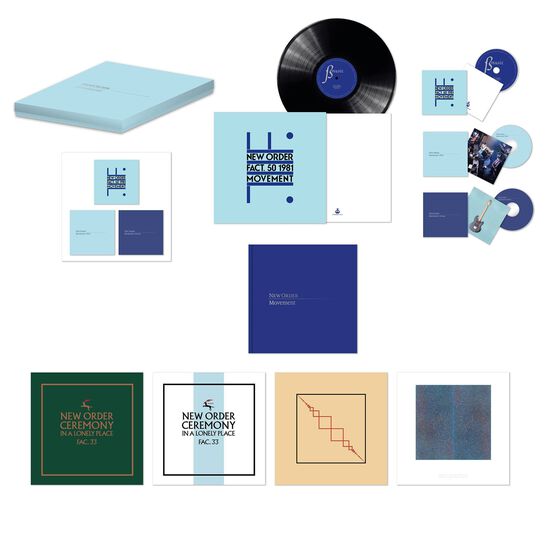 New Order
Movement (1LP/2CD/1DVD)
Lift off lid box including the vinyl LP in its original sleeve, original album CD in replica mini album sleeve, a bonus CD of previously unreleased tracks, DVD of live shows and TV appearances plus a 48 page hardbound book.

The spine of the LP sleeve features 'FACD 50' as the catalogue number rather than 'FACT. 50' (a misprint). Despite CD1's disc face showing 'Remaster 2019' CD-Text reveals '2015 Remastered Version' in brackets next to each track. The white inner CD1 sleeve features 'FCL PRODUCT Nr.50' at the bottom on both sides.

CD2 'Extras' recording information:
CD2-1 to CD2-5 recorded at Western Works Studios, Sheffield, September, 1980.
CD2-6 to CD2-14 recorded at Cargo Studios, Rochdale, January, 1981.
CD2-15 recorded at EARS, New Jersey, September 1980 and mixed at Strawberry Studios, Stockport, November 1980.
CD2-16 recorded at Advision Studios, London, January 1982.

DVD phonographic, copyright and other information:
NTSC, Region 0, Aspect ratio 4:3
Audio Stereo & Mono, Dolby Digital DVD-9
Duration 2 hours 57 minutes approx.
Vinyl
Side A
01 Dreams Never End (2015 Remaster)
02 Truth (2015 Remaster)
03 Senses (2015 Remaster)
04 Chosen Time (2015 Remaster)
Side B
01 ICB (2015 Remaster)
02 The Him (2015 Remaster)
03 Doubts Even Here (2015 Remaster)
04 Denial (2015 Remaster)
CD 1
01 Dreams Never End (2015 Remaster)
02 Truth (2015 Remaster)
03 Senses (2015 Remaster)
04 Chosen Time (2015 Remaster)
05 ICB (2015 Remaster)
06 The Him (2015 Remaster)
07 Doubts Even Here (2015 Remaster)
08 Denial (2015 Remaster)
Extras
CD 2
01 Dreams Never End (Western Works Demo)
02 Homage (Western Works Demo)
03 Ceremony (Western Works Demo)
04 Truth (Western Works Demo)
05 Are You Ready for This? (Western Works Demo)
06 The Him (Cargo Demo)
07 Senses (Cargo Demo)
08 Truth (Cargo Demo)
09 Dreams Never End (Cargo Demo)
10 Mesh (Cargo Demo)
11 ICB (Cargo Demo)
12 Procession (Cargo Demo)
13 Cries and Whispers (Cargo Demo)
14 Doubts Even Here (Instrumental) [Cargo Demo]
15 Ceremony (1st Mix) [Ceremony Sessions]
16 Temptation (Alternative 7'' Mix)
17 Procession (Rehearsal Recording)
18 Chosen Time (Rehearsal Recording)
DVD
Peppermint Lounge, NY 1981
1 In A Lonely Place 5:56
2 Dreams Never End 3:38
3 Chosen Time 4:07
4 ICB 5:12
5 Senses 5:00
6 Denial 5:07
7 Everything's Gone Green 6:09
8 Hurt (Instrumental) 5:27
9 Temptation 10:22
Hurrah's, NY 1980
10 Untitled 0:21
11 In A Lonely Place 5:06
12 Procession 3:38
13 Dreams Never End 3:51
14 Mesh 4:04
15 Truth 5:50
16 Cries & Whispers 3:27
17 Ceremony 5:08
Granada Studios, Mcr 1981
18 Doubts Even Here 4:10
19 The Him 6:29
20 Procession 4:08
21 Senses 5:12
22 Denial 6:34
BBC Riverside, London 1982
23 Temptation 4:35
24 Chosen Time 3:45
25 Procession 4:04
26 Hurt (Instrumental) 4:09
27 Senses 4:23
28 Denial 5:17
29 In A Lonely Place 5:36
Extras
30 Ceremony 4:34
31 In A Lonely Place 5:21
32 Temptation 7:20
33 Hurt 6:50
34 Procession 3:43
35 Chosen Time 3:37
36 Truth 4:22
37 ICB 5:10